PHAGOBIODERM 4cm*5cm #1 film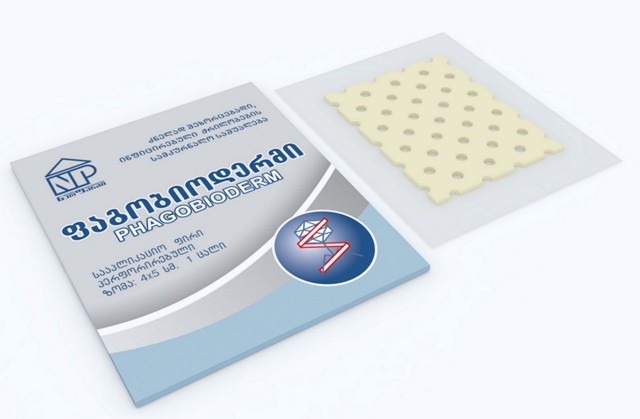 Application film
Composition: 1cm2 of the film contains:
Ciprofloxacin hydrochlorid - 0.89mg, anesthesin (benzokain) -1.78mg,
Pyophage - no less than 104-phage, Proteolic Enzyme - α -chimotripsin - 0.13mg, Biodegradable polymer - 5.35-7.18mg.
Production form:
4cm/5см size 0.08-0.18 wide, perforated film.
Pharmacological group: Antimicrobial mean, stimulates reparation regenerations of a tissue.

Pharmacological operation: Ciprofloxacin hydrochloride –Anti microbe mean of a wide range of action.
Being as from ftorchinolin group it is characterized by bactericidal action: Provokes the inhibition of enzyme of bacterium DNA-Gyrase, then contravenes the replication of DNA and synthesis of bacterial cell fibers.
Ciprofloxacin acts on microorganisms both during a phase on duplication and during a phase of rest.
Piobacteriofage provokes the lyses of 5 basic purulent microorganisms. (Ps. aeruginosa, E. coli, Staphylococcus, Streptococcus, Proteus), It is characterized by immune modulating action.
α -chimotripsin - destroys necrotic (dead) tissues and fibrin formations (blood clot, coagulated blood). Swells viscous secretions and exudates.
Biodegradable polymer is biocompatible structure, which in an organism turns into amino acids. It is characterized bactericidal activity, accelerates regeneration of damaged tissue and processes epithelization.
Pharmacodynamics:
The therapeutic effect is reached by logical concentration of medical mean (at a low integrated doze) during prolonged period that reduces by a minimum collateral action.
Indications: Difficultly healing the infected superficial wounds, bedsores,
Tropic ulcers of different origin, burns.
Contra indications:
• Hypersensitivity toward the components into preparation.
• phenylketouria (preparation contains phenylalanin)
Side effects: It is possible occurrences of allergic reactions to substances of a film structure.
Way of reception and dosage: Standard processed wound is washed well by warm water solution 4-5% Bicarbonate of Sodium and film of "Phagobioderm" concerns round tissues of a wound, slightly covering it. In 2-3 days is audit – if the film is sucked or strongly fragmented paste new. In case of sticking leave the film before full healing.
Precaution: At treatment of tropic ulcers having appeared on a background of no compressive diabetes the therapeutic effect of "Phagobioderm" decreases.
Pregnancy and the period of lactation: There is no clinical information of application of a preparation approving security of "Phagobioderm".
Interoperability with other preparations and other interoperability:
There are no appropriating researches about interoperability with other preparations.
Overdose: Cases of Overdose are not fixed.
Influence on driving of cars and other techniques: The preparation doesn't influence on ability of driving cars and other moving mechanisms.
Shelf Life: 2 years
Storage conditions: stored in dry place at temperature no more 25˚С.
Packing:
Primary packing: 4см/5см perforated film is packed in hermetically sealed polyethylene plate.
Secondary packing: One film is inserted in a cardboard box together with the instruction.
Order of issue: III group of pharmacological product, issued without doctor's prescription.