Tinctura Valerianae 25 ml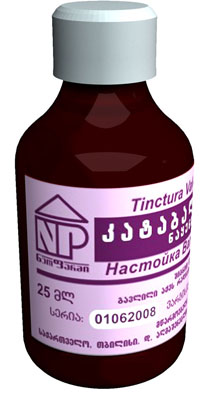 Paramedical mean
Tinctura Valerianae
Dosage form: Inner dropps.
Composition: Valeriana rhizomes with roots - 5 g.
Alcohol 70% - sufficient amount for preparing 25ml tincture.
Pharmacological operation: Biologically active substances contained in the roots and rhizomes of Valerian reduces excitability of central nervous system, strengthens operation of sleeping and spasmolytic means.
Indication: Different neurosis: vegetative neurosis, climacteric neurosis, excitability, insomnia, tenseness;
Contra-indication: Additional sensitivity towards the components of the preparation;
Administration and dosage rule: Perorally administered.
For adults- 20-30 drops 3-4 times a day;
For children – so many drops how old is a child.
Side effects: The drug is well tolerated. Long-term usage may suppress the emotional reactions, decreased capacity of work, sleep, allergic reactions.
In cases of individual intolerance may cause allergic reactions.
Pregnancy and lactation period: Usage of the preparation during the pregnancy and lactation period is allowed with doctor's prescription.
Influence on ability of driving motor transport and mechanisms: After receiving the drug should be careful with driving mechanisms, based on the fact that the drug acts on the capability concentration of attention and rapid response.
Overdose: Long-term usage of the drug in high doses can cause a drop speed of psychomotor reactions.
Drug Interactions: The drug administration with the central nervous system depressing means potentiate their effects.
Packing: 25ml tincture in an orange glass and in a polymeric bottle with dropper and scrwed cover.
Sheif-life: 3 years.
In case of visual defects and expiry of validity date, the preparation can not be used.
Storage: Store on 15-25ºC temperature in a protected from light place and keep away from children.
Issue: III group of a pharmaceutical product - issued without doctor's
prescription.
Manufacturer: "Neopharmi" Ltd.
12th km, David Agmashenebeli alley, Tbilisi, Georgia.
Tel/Fax: +995 (032) 259-64-46, 259-57-90.