Ampiox in capsule 250 mg #20 Cap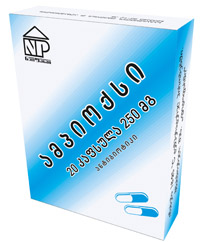 Using instruction
Ampiox - 250 mg
Antibiotic
Composition:
Ampicillin trihydrate - 0,125 g;
Oxacillin sodium - 0,125 g;
Aiding substance: lactose - till 0,3 g.
Pharmacological operation:
The preparation unites antibacterial acting spectrum of Ampicillin and Oxacillin. It is active toward gram-positive (streptococcus- streptococcus pneumoniae, Staphylococcus - Staphylococcus spp, pneumococcus) and gram-negative (influenzae coli, meningococ - Neisseria meningitides, Escherichia coli, gonococcus, variety of salmonella and shigell) microorganisms. Because of Oxacillin compound it is active toward penicillinase making staphylococcus.
Indication:
It is used at time of inhalant and lung infections (pneumonia, bronchitis and etc.), tonsillitis, cholangitis, cholecystitis, pyelitis, pyelonephritis, cystitis, infected wounds, skin and other infections. It is especially recommended at time of hard current of the diseases (sepsis, endocarditis, further delivery infections and etc.), also at time of mixed infections that are caused by stable and non-stable staphylococcus toward benzylpenicillin and gram-negative bacteria, at time of scorch diseases and kidney infections.
It is used after post operation purulent wounds complications, for infection prophylactics and treating in new-born. At time of gonorrhoea treatment, Ampiox is used when gonococcus strains are resistant toward benzylpenicillin.
Contra-indication:
Allergic reactions toward penicillin group preparations.
Side effects:
Nausea, vomiting, diarrhea, allergic reactions. In case of inevitability is prescribed desensibilizative means.
Using rule and dosage:
For adults there is a non-permanent dose 0,5 -1 gram, daily dose 2-4 gram.
For children from 3 to 7 age is prescribed daily dose 100 gm/kg, from 7 to 14 age - 150 mg/kg. Up to 14 age is prescribed adult's dose.
The daily dose is distributed to 4-6 times taking. Duration of treatment 5-7 days till 5 weeks and more.
Interaction with other medical preparations: It is impossible to take capsules of Ampiox with other antibiotics, which inhibit growth of bacteria (bacteriostatic antibiotics, such as tetracycline, a macrolide, sulfonamid and chloramphenicol) as the effect of Ampiox in that case may decrease. The preparations containing probenecid (for gout treatment): at simultaneous use can choke excretion of preparation that causes increase in its level.
The preparations containing Alopurinol (for gout treatment): simultaneous reception can promote development of allergic reactions of a skin.
Dehydrating preparations (diuretics): increased excretion of water causes increase elimination of Ampiox, because of what quantity of active substances in blood decreases.
Anticoagulants (coumarin): simultaneous reception may increase the risk of bleeding.
Caution: the preparation contains dairy sugar. Therefore, if the patient has intolerance of some sugars, before reception Ampiox it is necessary to consult with the doctor.
Dose excess: at present typical characteristic symptoms of excess of a dose were not shown. Even long therapy does not cause specific toxic by-effects. Intoxication symptoms are similar to the symptoms developed at collateral actions. More often complaints appear in intestine, for example: nausea, vomiting, belly-aches and a diarrhea. In case of the premature termination of treatment there is a risk of relapse of infection.
Pregnancy: Ampiox passes in a placenta. For the purpose of care, at pregnancy of capsule Ampiox are accepted only after the doctor will estimate expected risk and utility of treatment.
The lactation period: Ampiox passes in milk of mother. At the child who accepts such milk, the diarrhea and fungus disease of mucous membrane that specifies that it is necessary to interrupt a lactation can develop. Also, development of allergic reaction is supposed. However, reception of Ampiox in lactation period is possible if potential advantage of its reception justifies potential risk associating with it.
Influence at driving of the car and other techniques: experience has shown that capsules of Ampiox do not operate on ability of concentration and reaction, however side-effects can affect, both on reaction, and to driving of the car and other mechanisms. It especially concerns preparation reception together with alcohol.
Production form: 10 capsules on blister; two blisters in a carton box.
Storage conditions: Store on 15-25°C, protected from the reach of children.
In case of defects by visual inspection, not acceptable to use the drug.
Validity: 2 years.
Issue: pharmaceutical product group II - issued a doctor's prescription.
Manufacturer:Ltd "Neopharmi".
12th km, David Agmashenebeli alley, Tbilisi, Georgia
Tel/Fax: +995 (32) 59-57-90; 59-64-46.